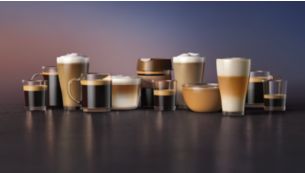 ENJOY 12 COFFEES AT YOUR FINGERTIPS, INCLUDING CAFÉ AU LAIT
Every moment has its own kind of coffee to enjoy. From powerful espresso to indulgent cappuccino, your fully automatic espresso machine delviers a perfect in-cup results without any fuss in no time.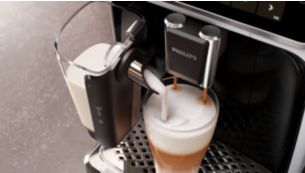 SILKY SMOOTH MILK FROTH THANKS TO HIGH SPEED LATTEGO SYSTEM
Top your coffee off with a silky-smooth layer of milk froth. By using cyclonic frothing technology, LatteGo releases a powerful stream of microbubbles at a speed of 394 metres per second, creating a rich and dense milk foam.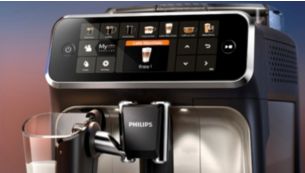 EASY SELECTION OF YOUR COFFEE WITH THE INTUITIVE DISPLAY
There's little standing between you and your next delicious cup of coffee with our easy to use display. In a few steps you can customize your fresh-bean flavor and flow smoothly from craving to cup.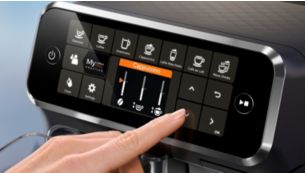 ADJUST AROMA AND VOLUME WITH THE COFFEE CUSTOMIZER
Make any coffee your own with the coffee customizer's easily adjustable settings for intensity, coffee and milk length.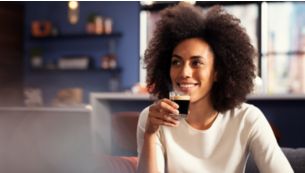 EVEN MORE FLAVOR THANKS TO THE EXTRA SHOT FUNCTION
Boost your drink's intensity with the coffee customizer's extra-shot feature, which adds powerful flavor without the bitterness.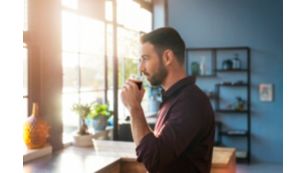 THE PERFECT TEMPERATURE, AROMA AND CREMA CUP AFTER CUP**
The Aroma Extract system intelligently strikes the optimum balance between brewing temperature and aroma extraction by keeping the water temperature between 90 and 98°C, while regulating the water flow rate, so you can enjoy delicious coffees.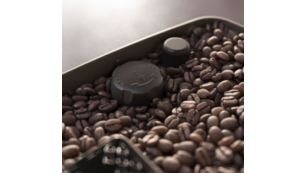 EASILY ADJUST TO YOUR TASTE WITH 12-STEP GRINDER LEVELS
Our durable ceramic grinders can be adjusted in 12 steps, so you can turn your beans into anything from ultra-fine powder to coarse grindings.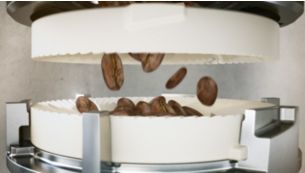 20,000 CUPS OF FINEST COFFEE WITH DURABLE CERAMIC GRINDERS
Bring out the full flavor of your coffee with our hard-wearing ceramic grinder. Our sharp-edged grinders extract the best aroma and flavour from your beans. Made from 100% ceramic material which ensures they last for at least 20.000 cups, from coarse to ultra-fine.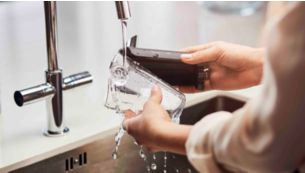 EXCEPTIONALLY EASY TO CLEAN WITH LATTEGO: 2 PARTS, NO TUBES
For your convenience, you can put LatteGo drip tray and the coffee ground container in the dishwasher. This will save time and ensure a hygienic cleaning.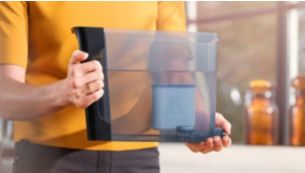 UP TO 5000 CUPS*** WITHOUT DESCALING THANKS TO AQUACLEAN
By changing the filter after being prompted by the machine, you will not need to descale your machine for up to 5000 cups***, while enjoying clear and purified water.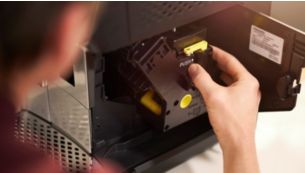 EASY CLEANING THANKS TO FULLY REMOVABLE BREW GROUP
The brew group is the heart of every fully automatic coffee machine, and should be cleaned regularly. The removable brew group allows you to clean it thoroughly just by rinsing it under the tap.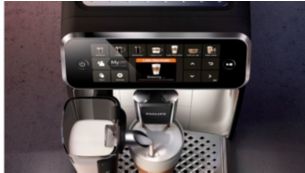 PREMIUM MACHINE, ELEGANTLY DESIGNED FOR YOUR KITCHEN
Your coffee takes center-stage thanks to the appliance's elegant design. The chromed front provides a premium backdrop for every cup of coffee and adds an extra touch of class to your kitchen.
YOUR PERFECT CUP, EVERY TIME, THANKS TO 4 USER PROFILES
Enjoy coffee you love the same way every time with four user profiles that store your customized recipes. With an extra guest profile, your visitors can savor a coffee exactly the way they like, without changing yours.