Hide-out, look-out, or camp-out? Even better than a treehouse, the Eagles Nest is the ideal playset for whatever covert activities you can think of. With one of the most spacious and tallest clubhouses offered, any little campers or climbers will gleefully spend endless hours running, scheming, and hanging out on the rock climbing wall, at the picnic table, and crow's nest.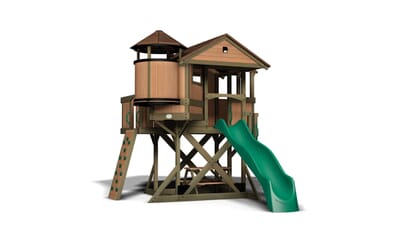 Drag to spin
PLAYHOUSE FEATURES
Easy Assembly – Supported by the step-by-step interactive BILT® app
Roomy enough for scary stories and camping out!
Search for ancient treasure in all the nooks and crannies of the 5ft, 6ft and 7ft. platforms
Get a bird's eye view of your domain from the 7ft. crow's nest
Climb the challenging rock wall to the wrap around porch and keep watch for the enemy
10ft. Wave slide
Full picnic table and benches
FSC lumber
Stain colors may vary
ALL-CEDAR CONSTRUCTION
The Eagles Nest is made from 100% cedar. With small, tight knot structure, your lumber will be less likely to develop small cracks emanating from knots. In laboratory testing, our durable cedar wood proved to be rot resistant and highly resistant to natural decay. All lumber is pre-stained for a smooth and clear appearance, as well as cut and stamped with the part number to help speed up the building process. Some pilot-hole drilling may be required.
SPECS
Width
Depth
Height
Assembled Dimensions
12′ 1″
x
14′ 4″
x
11′ 7″
Weight:
872lbs
General Info/Warranty/Maintenance
This product is intended for RESIDENTIAL USE ONLY. Any use of this product outside of a residential setting will make the product warranty null and void.
Box 1: 91 3/4″ x 22 1/4″ x 7 3/4″ Weight: 198 lbs.
Box 2: 91 3/4″ x 22 1/4″ x 8 1/2″ Weight: 141 lbs.
Box 3: 91 3/4″ x 22 1/4″ x 7 3/4″ Weight: 145 lbs.
Box 4: 91 3/4″ x 22 1/4″ x 7 3/4″ Weight: 172 lbs.
Box 5: 91 3/4″ x 22 1/4″ x 7 1/2″ Weight: 181 lbs.
Wave Slide Bagged Separately: 118″ x 17″ x 26″